The Feminist To Do List by Susan Lenz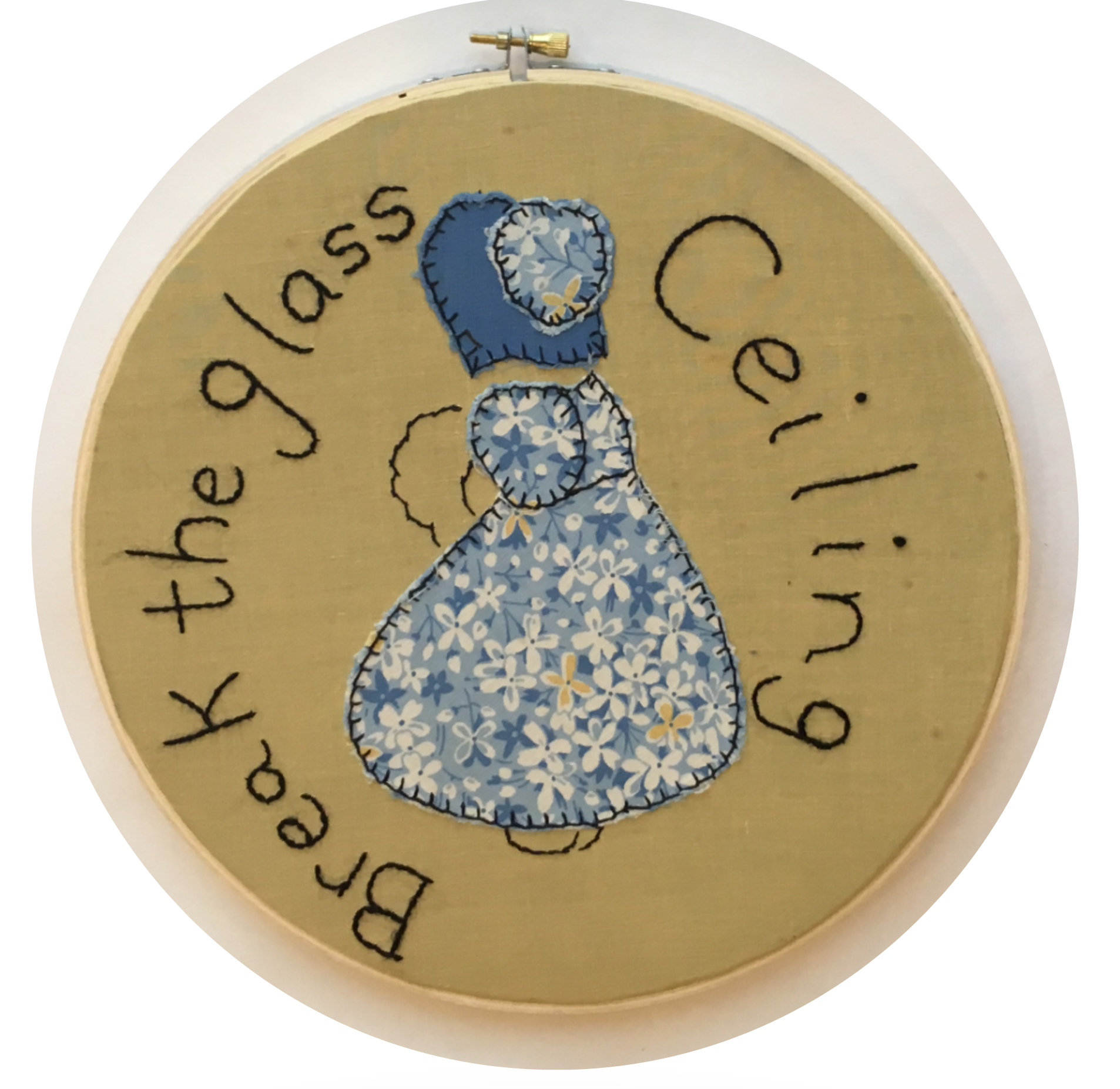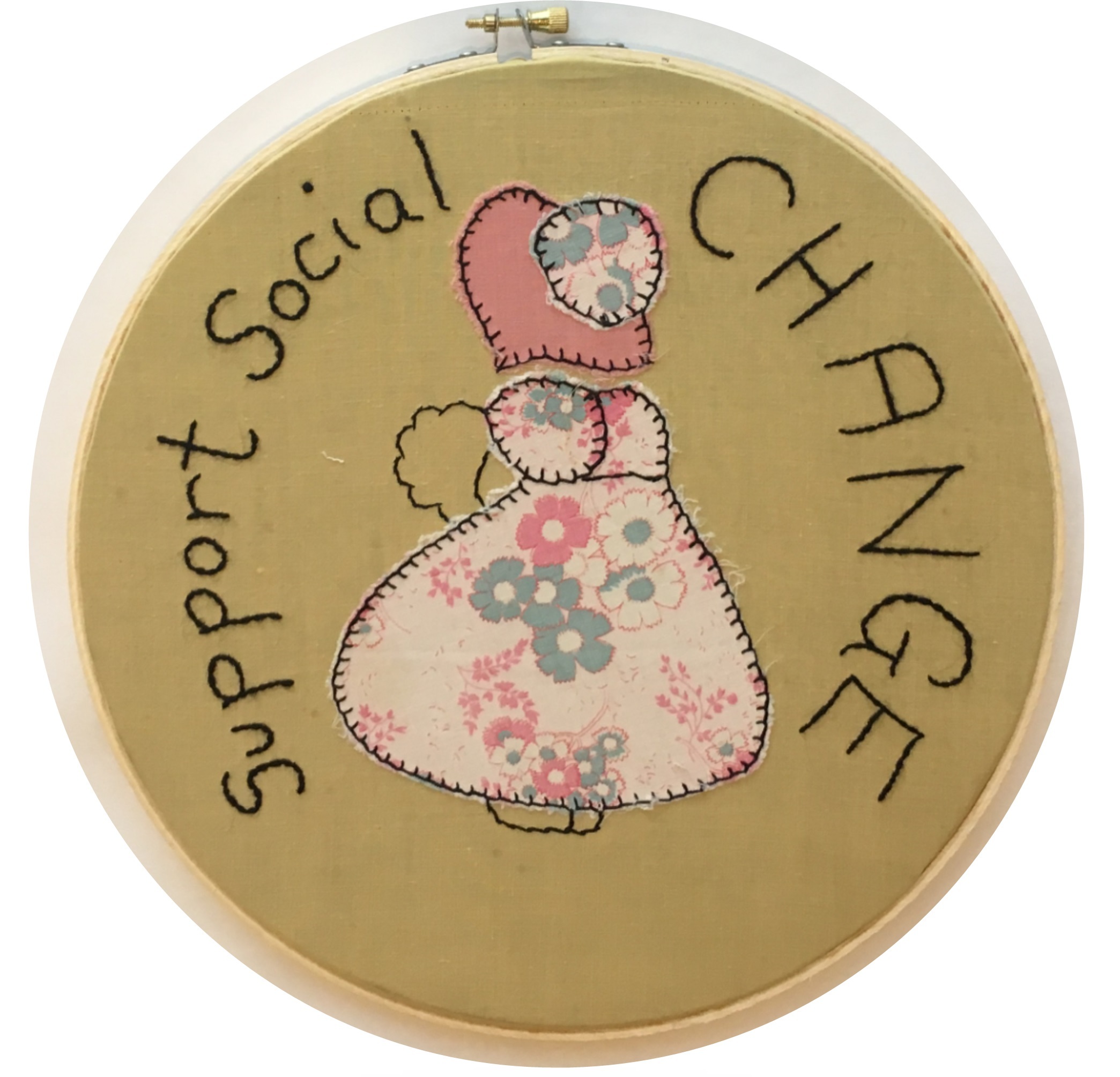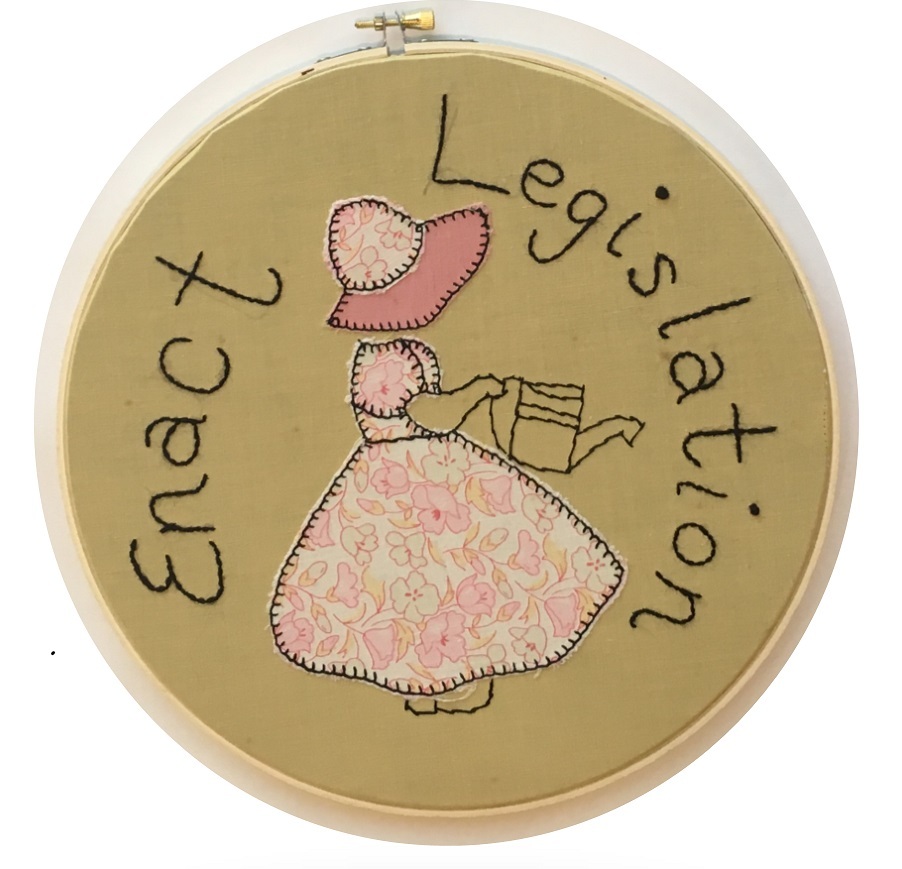 "The Feminist To Do List" by Susan Lenz, South Carolina, fiber, 2018
On view January 18 - April 12, 2020

The Feminist To Do List is a collection of forty-two altered, vintage quilt blocks presented in 10" diameter wooden embroidery hoops. Fiber artist Susan Lenz hand stitched call-to-action phrases on each one. The work was inspired by the early Suffragists and the upcoming centennial celebration of the 19th amendment. The use of decades-old Sun Bonnet Sue quilt blocks recalls the years of struggle before women were granted the right to vote and serves as a reminder that gender equality is still an on-going issue. The hand stitched phrases are all straight-forward tasks presented as positive suggestions for a better, more 'equatable' future.

In no particular order, phrases used are:
Run for Office, Enact Legislation, Call the Meeting to Order, Initiate Change, Break the Glass Ceiling, Resist Patriarchy, Speak Up, Listen Intently, Protest Peacefully, Wear a Pussy Hat, Support Social Change, Inspire Others, Advocate Equality, Be a Role Model, Empower Other Women, Support Affirmative Actions, Protect Reproductive Rights, Dismantle Gender Injustices, Create an Inclusive Space, Increase Registered Voters, Oppose Discrimination, Achieve Civil Rights for Every Citizen, Eliminate Violence Toward Women, Delegate Responsibly, Voice Informed Opinions, Make the First Move, Teach by Example, Keep an Open Mind, Make No Excuses, Take Positions of Leadership, Never Give Up, Challenge the Status Quo, Lead with Integrity, Power Lunch, Walk Fearlessly, View All Women as Beautiful, Fight Fairly, Encourage the Next Generation, Exude Confidence, Report Sexual Harassment, March on Washington DC, Enjoy Life

Susan Lenz resides in Columbia, SC and received a Bachelor of Arts degree in Medieval and Renaissance Studies from The Ohio State University.

Susan has had solo engagements all over the United States, including the Mesa Contemporary Art Museum, Mesa, AZ; Southeastern Quilt and Textile Museum, Carrolton, GA; International Quilt Festival, Houston, TX; City Gallery at Waterfront Gallery, Charleston, SC; and at the Imperial Centre in Rocky Mount, NC.

Her work has also been selected for national and international group exhibitions, earned merit and purchase awards, and is in corporate and museum collections including the Textile Museum in Washington, DC and the McKissick Museum on the campus of the University of South Carolina. Susan is also available for fiber arts workshops and has taught at Arrowmont School of Art and Design, Lander and Slippery Rock Universities, the Society for Contemporary Crafts in Pittsburgh, PA, the Arts Alliance of St. Louis, the Studios of Key West, the Museum of Quilts and Fiber Arts in Cedarburg, WI and elsewhere.